canadian puregas equipment limited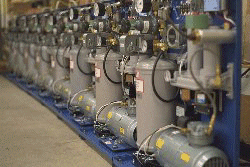 Perfíl de la Compania
Establecida en 1958, CANADIAN PUREGAS EQUIPMENT LIMITED, es una companía independiente, de propiedad y control canadiense. Desde entonces CANADIAN PUREGAS EQUIPMENT LIMITED ha suministrado servícios de redes de aire con un nivel de servicio dedicado y en aumento. Estos servicios incluyen sistemas completos de aire, instalación, entrenamiento y mantenimiento. Originalmente los secadores de aire y los equipos de presurización fabricados por PUREGAS EQUIPMENT Co. (U.S.) eran vendidos y serviciados para el mercado domestico de telecomunicaciones en Canada.
En 1975 CANADIAN PUREGAS EQUIPMENT LIMITED comenzo a producir equipos de presurización, progresando hasta fabricar en 1979 sistemas completos de secadores y paneles. Esto mejoro grandemente nuestra habilidad para suministrar a nuestros clientes sus requerimientos por encargo. CANADIAN PUREGAS EQUIPMENT LIMITED se ha colocado en la vanguardia de su campo y suministra servicios de redes de aire mundialmente.
Desde 1990, CANADIAN PUREGAS EQUIPMENT LIMITED, ha suminstrado y dado servicios a sistemas de monitoreo de presurización fabricados por Nicotra Sistemi de Italia. CANADIAN PUREGAS EQUIPMENT LIMITED ha instalado sistemas y ha trabajado con companias de teléfono para adaptar sistemas a requerimientos y facilidades existentes. Estos sistemas emplean transductores de presión y de flujo, de estado solido para la generación computarizada de alarmas y localización de fugas. Estos sistemas tambien son capaces de monitorear cables de fibra optica, y el acceso a gabinetes.
CANADIAN PUREGAS EQUIPMENT LIMITED tiene todas sus facilidades de producción situadas en Canada. Nosotros tambien suministramos y damos servicios a secadores industriales PUREGAS usados para instrumentación, expectrometros, y absorbentes de CO2 e hidrocarburos. El entrenamiento completo en productos se lleva a cabo en las facilidades de Canadian Puregas o en la localidad del cliente. Canadian Puregas vende y da servicio a secadores y equipos asociados para las industrías de telecomunicaciones, microondas e instrumentación asi como para aplicaciones de radar.
Nuestra oficina central se encuentra en Dunnville, Ontario, Canada, y una oficina de venta en Montreal. Contamos con representantes en Mexico, Cuba, Costa Rica, Panama, Italia, Sur Africa, Hong Kong, Malasia, Singapore.
---
Lista de Clientes
Canada
AGT Limited
Abitibi Price Inc.
B.C. Hydro
BCTel (GTE)
Bell Canada
Bell Canada International
CN Rail
Canac/Microtel
Canadian Broadcasting Corp.
Dept. of National Defense
Dofasco
Dome Petroleum
Edmonton Telephones
Esso Petroleum
Frontec Logistics
Hostess/Frito Lay
Hydro Quebec
Imperial Oil
Island Telephone
MTS
Maritime Tel & Tel
Ministry of Natural Resources
NB Tel
Northwest Telephone.
Newtel Communications
Northern Telecom
Northern Telephone
Nova Scotia Power Corp.
Ontario Hydro
Ontario Northland
Quebec Telephone (GTE)
Royal Canadian Mounted Police
Rapidair
Rogers Cable TV
Sasktel.
Telebec Ltee.
Teleglobe Canada Inc.
Toyota Motor Manufacturing
Transport Canada
Unitel (AT&T)
Videotron Limitee
China
Great Eagle Enterprise Inc.
Hong Kong Telecom
Colombia
COLOMSAT
Costa Rica
ICETEL
Dominican Republic
Codetel (GTE)
Luxembourg
NATO Maint. & Supply Agency
Mexico
Telmex
Portugal
Cirtec Comercio Internacional
Puerto Rico
Puerto Rican Telephone Company
Russia
Lityan Systems Pte. Ltd.
Saudi Arabia
Abana Enterprises Group
South Africa
MCT Telecommunications (PTY) Ltd.
Sweden
Swedich Space Corporation
---
Back to Canadian Puregas home page | E-mail Canadian Puregas
90406