canadian puregas equipment limited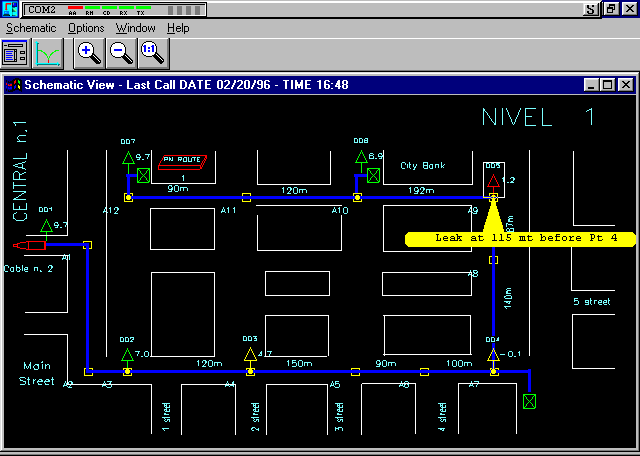 Monitoring Systems
Monitoring Systems
Canadian Puregas is the exclusive North American agent for Nicotra Systemi monitoring systems. Nicotra monitoring systems are used for cable air pressure monitoring and leak locating, fiber-optic cable monitoring, power station SCADA, cabinet security monitoring and management. Transducers are available for pressure, flow, humidity, current, contact, voltage, water, temperature, etc. For full information on these systems e-mail to info@canadianpuregas.com with your name, company, title and address and we will send you more information or call us at 1-905-774-8600 and ask for Ingolf.
Highlights of the Nicotra Monitoring System for Pressurization Monitoring:
Windows based intrinsically safe software with object oriented graphical user interface runs on desktop or laptop PCs. Open relational database for complete access by off-the-shelf software for user designed reports.
Easy to learn and easy to use with on-line help. Colour alarm reporting on graphic system representation. Multitasking and user guiding of parameter inputs with notes and graphic drawing capabilities with object library. Password level and historical file management.
Fully automatic status and alarm reporting on screen, to printers, remote computers and alphanumeric pagers.
24 hour continuous monitoring and diagnostics of all devices.
Pressure profiles and trends of all cables and branches in the network with accurate graphical fault location for quick problem responses and unmatched proactive maintenance.
Complete range of addressable devices for monitoring flow, pressure, humidity, temperature, current, voltage, water detection and insulation resistance. Nicotra solid state addressable devices offer the highest accuracy, resolution and reliability in the field.
Monitors contacts and can monitor older style 20-step resistive transducers. F.O. monitoring fully supported with software upgrade and additional hardware.
Fully serviced and supported by Canadian Puregas including training and software support.
A Nicotra monitoring system will permit proactive and timely repairs, reduction of emergencies and more efficient maintenance personnel and improvement of the overall efficiency of the network. Nicotra systems protect your revenue and customer satisfaction. That is why telcos around the world have specified over 150 Nicotra monitoring systems with more than 2,300 Data Acquisition Units and over 150,000 transducers in the past 8 years.
Bulletin; Monitoring non-pressurized cable with the Nicotra system.
Introduction to the Nicotra Optical Network Monitoring System
Introduction to the NIDA2 Pressurized Cable Monitoring System
Nida 2 Monitoreo

OCN-MS Monitoreo

Back to Canadian Puregas home page | E-mail Canadian Puregas
090406